My friend B. is always a fantastic source of stories for this blog. Today, he sent me a group of screenshots of a conversation he had with someone on Tinder.  All seemed to be going well. He showed her pics of his dog. She laughed and said he was cute. Blah blah blah. Love was in the air.
After a handful of exchanges back and forth, B. asks the woman if she's like to meet in person.
"Sure," she says. "How about brunch on Sunday?"
"Let's line up eggs and mimosas for tomorrow," B. says. "I'm on the UWS. Where will you be starting your day?"
B. does not balk at her request for brunch even though it's totally nervy on her part. Further demonstrating he's not a dick, he asks what part of the city she will be in so they can meet somewhere convenient to both of them. Nice, right? B. even picks out a highly rated brunch spot and replies back and suggests they meet there at noon.
But here's where this conversation goes terribly wrong. Instead of replying and saying yes, she just says this:
"Can you tell me how tall you are?"
Without hesitating, B. replies and says, "Hah. That's a funny question to get out of the shower to. You first. What's your bra size?"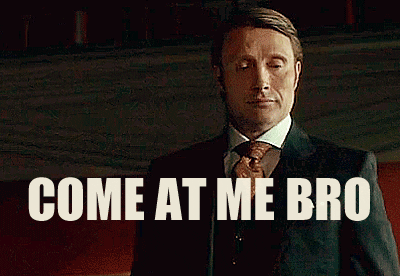 "We are not looking for the same thing I'm afraid," she says. "Good luck on your search."
Again without missing a beat, B. replies and says, "You too!"
Womp womp. Sad trombone.
"Aww you are not young anymore," she says, further trying to shame him for something he didn't even do and wildly oblivious to how she did herself in. "Why are you still looking for casual flings? Doesn't it get old?"
No response from B. He unmatched her instead.
I suggested to B. that he include his height in his Tinder bio so that he didn't have to deal with that again. I've seen his photos and it's pretty clear that B. is fairly tall. He's not 6'2″, but he's not 5'7″, either. A quick glance at his photos would be able to tell a woman that B. is "tall." In any case, if that was such a concern for her, she should have asked that question before she agreed to meet for brunch. Well, she shouldn't have asked that question at all, really. It's rude. If she's so resistant to meeting someone who isn't vertically challenged (in her mind), then she should stick to swiping left on men who state their height in their bio instead of putting herself in a position to have to ask such an asinine and awkward question.
I have a feeling this woman interpreted B.'s response to be sexual in nature. She didn't understand that he was actually turning the question around on her with the intention of proving a point. A point she clearly missed. He was showing her how it felt to have your value resorted to a number.
Weight, age, height, salary. These are all things that many of us use to determine whether or not someone is a suitable romantic partner. At any given time, one of these factors is either working in our favor or being used against us. There are arguments for and against why this is problematic. The one thing we can equivocally agree on is that when they are utilized to rule us out, it sucks. Especially because we really can't do anything to change those criteria. Could we get a better job or lose weight? Sure, ut things like that take time. There's no quick fix for them. Forget about height and age; those criteria are fixed.
Asking B. what his height was is no different than requesting additional photos from someone. Receiving such an inquiry or request never makes a person feel confident. It leaves them feeling judged and inadequate.
"But maybe she just didn't want to be surprised on her date!" some of you might say. Oh no. You mean one human being might have to be courteous and polite for an hour to another human being??? That's TERRIBLE. Suck. It. Up.
I certainly understand why something like a man's height or a woman's weight matters. I'm not saying that B.'s match is being shallow or entitled, or that men who prefer women of a certain body type are all sexist pigs. That's not true. Attraction is attraction. Although, if we are to be honest, a lot of what we find attractive is heavily informed by what society as a whole finds attractive. That's a whole other conversation.
What I am trying to point out is how unbelievably tactless and rude it is to be so obvious about your requirements and how counter-productive it is to be so rigid.  Here's the thing: she wouldn't know the difference between 5'8″ and 5'10, just like a lot of men wouldn't know the difference between 140 pounds and 170 pounds. All we have to go on are numbers, numbers that we hear associated with "tall" and "fat."
During a training session a few weeks ago I learned I weighed 184 pounds. I'm also going to be 47 in three months. I challenge anybody to look at this picture and say I represent either of those numbers. (Note: Of course there will be some people who will challenge.) This isn't a case of Everybody Tells Me I Look Ten Years Younger-Itis. What I am demonstrating is that people hear those numbers and immediately conjure up an image in their brains of something different.
If someone were to tell you they were a size 8 or were 5'11 there would be no way for you to prove they're telling the truth unless you whipped out a measuring tape on your date or wrestled them to the ground to look at the tag on their dress.
"But what if I want kids??" some guys will ask.
While there are some cases where age does play a valid factor (pregnancy, duh) it shouldn't automatically be assumed that a woman can't conceive because she's not below a certain age. This is another area where people are woefully ignorant. Today's 39 or 40 or even 42 is not the 39 or 40 or 42 of ten years ago. Educate yourselves. Sheesh.
You might as well stop relying so heavily on numerical digits because they aren't reliable nor are they an accurate barometer of anything. Like who you like, by all means, but don't reject someone strictly because of a number.
Thoughts?
Sometimes the love of your life is the love of your life. (R)
One on One Dating Profile Review
Get a 45 minute one on one review of your profile with me.  I'll go over your picture selection and ad text and let you know if your profile includes any buzz words or red flags. I'll also help you tweak/write your profile if it needs some freshening up.
$55 – INCLUDES:
*Profile analysis (45 minute phone session.)
*Assistance with editing and re-writes.
*Photo selection and review.
*Feedback about specific issues and experiences.
*Site selections  and Pros & Cons of the more popular dating sites.
*Overview of online dating basics – how to write intro messages, how to draw more attention to your profile, how to sort your searches so you can see profiles you might be missing.
$55 (Use code BLOG to save $10)