Name: Judi

:
Question: Hi Moxy:
Not sure if I have an actual question or just wanted to vent and receive feedback:
Is monogamy becoming a thing of the past?  Most of the people I meet now are either married and looking for something on the side, polyamarous, swingers or in open relationships. I even had a friend ask me if I want to "join" her partner and her in the bedroom. WTH?  Maybe if I were in my 20s and still experimenting I would be more open to some of these lifestyles but come on.. Is it to much to ask to be exclusive?
I am starting to feel like a dating dinosaur. "Where have all the cowboys gone?" Just sign me frustrated female.
Age: 51
I think more and more people are coming around to the fact that monogamy is an antiquated social rule that nobody ever agreed to in the first place. So, rather than cheat or have sex with a partner when they're not all that into sex, they open up their relationships. People were only monogamous because society dictated that monogamy was the only acceptable option. Now that we are moving away from social constructs like marriage,  we are also redefining commitment and exclusivity.
I've said this before: emotional intimacy is where it's at for me. Betray me emotionally, and I'll never forgive you. Fuck someone else because you get horny? Whatever. We all know that we can lust after someone and then, after we climax, feel nothing for them. Lust and desire is fleeting. So is attraction. Well, attraction isn't fleeting, per se. It changes as time goes on. What you were initially drawn to often falls down the list. Loyalty, devotion, honor, respect-these are things that grow and develop and deepen over time. So, the idea of a guy wanting to get off with someone who isn't me doesn't bother me. Sex is tres easy to get. Trust? Not so much.  Trust takes time to build. Attraction is instantaneous in most cases.
I think there are still people out there who prefer monogamy. I don't think this shift will happen overnight. It will take time for  "monogamish" to catch on.
Then there's the fact that, well, people aren't committing anymore. Women no longer need marriage,  so there goes that excuse for women to settle down. As a result, men are following suit. Now that it's (slowly) becoming more acceptable woman to be single after  certain age, men feel entitled to their own piece of the pie. You know, because they've so oppressed for so long.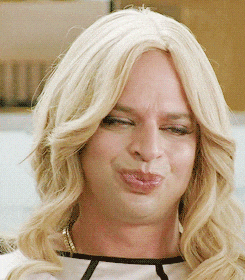 At this point, I honestly believe the only people who get married these days are the ones who have children together, or who want the tax break, or who are in an imaginary competition with their friends. Sure, there are a healthy number of people who get married because they believe in their hearts that they've met their forever partner, but I think they are a small percentage of the mix.
Finally, we are living in the age of Too Many Options. Why choose just one when you can pour over profiles and swipe left and right ad finitum? That's fun, right? I mean, you never know when that perfect man or woman you've been dreaming about will appear and you'll match. In the words of Tinder, "Keep playing!" Dating has become a game, a sport. What people haven't figured out is that there's no gold medal for who dates the longest or the most. It's a bottomless tunnel for most at this point.  It's a bunch of dogs chasing their tails at this point. They don't date anyone long enough to commit. Not committing has become the norm.
Not sure if this answers your question or not.
TL;DR version: lower your expectations.
Thoughts?