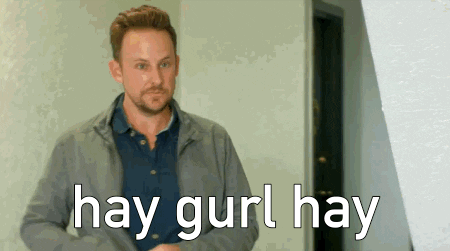 The pickings on OKCupid leave a lot to be desired. A lot. We all know this. But there is a certain sub-section of users of that site that you should avoid at all costs. Below, I'm listing out some red flags and WTFuckery that you should keep in mind next time you're tempted to send them a message or a reply.
They have one photo and describe themselves as "God fearing." – These are fake profiles created by scammers.
They have only one photo, and they're atypically attractive for a dating site, and tell you they've just moved to your city from LA. – These, too, are fake profiles. I've said this before, but dating sites don't typically attract the ridiculously good looking. Those folks have no problem meeting people offline.
They post a primary photo that is completely misleading. – We've all seen them. You click on the thumbnail because their profile photo appeals to you. Then you go through the rest of their pics and, well, the person is almost unrecognizable. You shouldn't have to trick someone into reading your profile.
Their primary photo is of them with another person of the same sex. – Sorry, but in the age of Tinder where everybody has an itchy swipe finger, you're cutting your chances of being swiped right if there are two people in that photo. Especially if that person is unfortunate looking. Fewer and fewer people are even stopping to take a look through your photos to see which one is you. And God forbid you're the unfortunate looking one. Nobody likes being disappointed like that. Either that person is a complete idiot and doesn't realize how these apps work or they're trying to pull the bait and switch. Time wasters. Nope.
Their primary photo is taken in the front seat of their car - I don't know who started this trend, but they need to be put down. First, why are you taking photos of yourself while driving? Second, do you not have any other photos better than this?
Their primary photo is of them and a child. – Nope. Foolish.
The people who list out their requirements for contact. – Oddly enough, I see this most often from people who are on and off a site consistently for a long period of time. They get frustrated because nobody is indulging them, so they quit. Then they come back and start in with the same nonsense all over again hoping for a different result. Hint: The problem isn't the dating site or your lack of viable options.
People who post photos that are completely unflattering. – No, I don't mean photos that don't favor them physically. I'm talking about pictures where the users looks distasteful, boorish, or insane. Oh, you gave the finger to the person taking the picture? You must be a bad boy/girl!
People who post photos of themselves smoking. – Listen, I don't have a problem dating an occasional smoker. But if one of your photos is of you with  a lit cigarette in your hand, then I'll give you a pass strictly because you're clearly trying to get people to reject you. My days of wanting to date a rebel ended about 15 years ago. Those people are too much work.
People who post photos of themselves with considerably younger people that aren't their relatives. - Photos like this say, "I might be XX age, but I totally fit in with a younger crowd so don't let my age get in the way." We get it. You're youthful. Equally questionable are people who swear that peers tell them all the time that they look ten years younger than they actually are. They're uncomfortable with their age and probably won't date anyone close to it.
People who write in their About Me summary that "they'll get back to this" but never do. – Everybody else has to do it and they manage just fine. Writing about yourself in a way that is complimentary and interesting shouldn't be the Herculean task many people think it is. If it is, then that's a pretty good sign that they're boring or not invested in the process.
People who use up their About Me summary to tell you their philosophies on life, love, or online dating. – Sorry, but nobody cares about you enough to read through a bunch of pretentious garbage just because you think you're a special snowflake. Get to the point. The About Me Summary is where you, you know, tell people about yourself and why they would want to date you. It's not a soapbox or open mic night.
People who are explicit in their potential mate's physical appearance. – She must be petite. He must be this tall. These folks have a very specific idea in their head about what they're looking for, and if you don't match up, they're not interested. Their ideals are rarely ever based on real men or women. They want to date a fictional character. Which brings me to..
People who use fictional characters or celebrities to describe their "type." – As we all know, celebrities aren't really like you and me. And fictional characters are just that: fictional. Basing your love life on a movie or book or something you saw on the pages of US magazine says that your expectations aren't based in reality.
People who tell you they don't email anybody, so you'll have to contact them. – These people don't want to do the work or take the risks. They can't be bothered. If they don't want to take the effort to write a message, imagine what they'll be like to date.
People who tell you not to email them. – Translation: You're probably not my type, so don't bother. I have high standards.
People who select an income of 500K+. – Only a fool or a scammer would do this. The same way many men are suspicious of women who say they're open to casual sex in their profile, women should be suspicious of men who use their income or trust fund or other assets to attract attention.
People who tell you they're going to be taking their profile down. – This is a marketing strategy that only works if you're selling an actual product. It's meant to create urgency, but on an online dating site this ploy falls flat. Instead of making them look in demand, it makes them look like damaged goods or too busy to date.
People who tell you they've returned to the site after taking a hiatus. – Oh. So you've already failed at this once? Cool. Sign me up.
People who tell you they were kicked off the site. –  If you were kicked off, it's because you did something bad. Derp. Nobody wants that person. There's this one guy on OKCupid who pops up every couple of days with a new profile and the same photos and text. (See pic below.) I've told him several times I wasn't interested and to stop emailing. Now, every time he creates a new profile he likes my profile or messages me. Every. Single. Time. I've reported him to OKCupid multiple times, but he keeps coming back. I don't know if he thinks being persistent will work or if he's trying to piss me off. Either way, this guy is a fucking creep.
People whose profile text don't match the photo. – I addressed this above, but it's an important one to repeat. If the photo is of someone who appears to be well put together and professional, and the text sounds like it was written by a prison inmate, be cautious.
All those Christian Grey/Anastasia wannabes – Ugh. Stahp. Stahp with the shirtless photos. Stahp with the sexy poses in lingerie. These people are NEVER as kinky as they say they are. To them, tying women and butt plugs up are risque.  2009 called. It wants its handcuffs and lube back.
The couples looking for a third. - Look, I'm down with a threesome if I find you both attractive. Unless I say explicitly  in my profile I'm open to meeting couples or interested in dating women, don't message me. This might not be a popular opinion, but I find the bisexual women and couples who contact and like me just as annoying as I find the men who fall outside of all my stated match criteria.
And finally…
People who post a grainy or cropped photo and you can't see what they look like. – Holy fuck. Stay home. I have zero problem replying to these time-wasters and telling them to fuck off. It's 2016. If you're still concerned someone you know will see you on an app, then you have bigger issues. I'm not going to engage someone only to finally see their photos and learn I'm talking to Jo Jo The Dogface Boy. Awkward. Oh, you have pics to share? POST THEM.
Did I miss any?